Top 10 Google Searches 2023
What Indians are searching in 2023?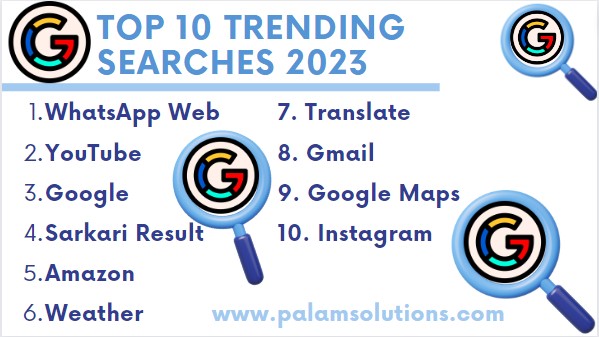 The internet has become an integral part of our lives, and Indians are no exception. In fact, India is the second largest internet user base in the world, with over 750 million users. This means that there is a lot of data available on what Indians are searching for online.
So, what are Indians searching for in 2023? Here are some of the top search queries:
WhatsApp web – This is a web-based version of the popular messaging app WhatsApp. It allows users to access WhatsApp on their computers, which can be helpful for work or school.
YouTube – YouTube is the world's leading video-sharing platform. Indians use YouTube to watch a wide variety of videos, including music videos, movies, TV shows, and educational content.
Google – Google is the world's most popular search engine. Indians use Google to search for information on a wide variety of topics, including news, weather, and recipes.
Sarkari result – This term refers to the results of government exams and jobs. Indians are always looking for ways to improve their chances of getting a government job, so this is a popular search query.
Amazon – Amazon is the world's largest online retailer. Indians use Amazon to buy a wide variety of products, including clothes, electronics, and groceries.
Weather – Indians are always interested in the weather, so this is a popular search query. People use this to find out the current weather conditions, as well as the forecast for the next few days.
Translate – This is a Google service that allows users to translate text from one language to another. This is a popular search query for Indians who are learning English or other languages.
Gmail – Gmail is a free email service from Google. Indians use Gmail to stay in touch with friends and family, as well as for work.
Google Maps – Google Maps is a popular navigation app. Indians use Google Maps to find their way around cities, towns, and villages.
Instagram – Instagram is a popular photo-sharing app. Indians use Instagram to share photos and videos with friends and family.
These are just a few of the top search queries in India in 2023. As the internet continues to grow in India, it is likely that the list of popular search queries will continue to evolve.